Frequently Asked Questions & Warranty Info
Commonly asked questions are noted below, however if you have questions which are not addressed in this website, we'd love to hear from you. 
Please call us at 905 876 4766 or send us an e-mail using the Contact feature on this website.
PURCHASING FEHERGUARD PRODUCTS
Q.    I can't find on this website how I can purchase FeherGuard items, can you direct me where?
FeherGuard sells to approved swimming pool related Distributors only.  Please see below for more information.
Q.     Where can we purchase FeherGuard items?
FeherGuard products can be purchased through your local brick & mortar pool retailer, or on-line through an e-tailer by Googling our item numbers as supplied on this website.  If you are having challenges locating a brick & mortal retailer near your location, please call us.
WARRANTY REGISTRATION
Q.     My registration form notes I can register on-line and I cannot locate where to do so. 
FeherGuard strives to make your purchase experience as friendly as possible.  We have recently decided the form you may have received in your reel box or the option to on-line register are no longer required.  Please retain your purchase receipt and should you have any challenges with your product we ask that you follow the Warranty Claim instructions below.
*Length of warranty coverage still applies based on the model purchased.
WARRANTY CLAIMS
Q.    What are the steps I need to take if I believe I have a warranty claim?
Warranty claims are to be submitted via e-mail to info@feherguard.com  "All warranty claims require the following":
Photographs of the item (please include a clear image of the problem item as well as situational photographs)
Information concerning what you are experiencing, if not obvious.
A copy of your original purchase receipt
Be sure to include in your email your full name, address and phone number.  This is very important information as we would use this as our shipping reference if your claim is approved. 
Please do not send items back to our warehouse without a Return Goods Authorization (RGA).  Any items returned without an RGA will not be investigated or returned.
Per our notation on our warranty - Exclusions of our warranty are all consumables (bearings, straps, strap plates and screws).  Tarnishing or discoloration of tubes does not constitute a warranty claim.  Tarnished or discolored tubes will not affect the tube integrity. 
 ON-LINE PURCHASES
Q.     I have questions concerning items "purchased on-line".
FeherGuard does not sell on-line.  Please contact the "seller" directly unless you have product related questions.  We do not have access to pertinent shipping information concerning your on-line purchase(s).
 REMOVING THE SYSTEM FROM YOUR POOL
Q.     How should I move my system off the pool when I want to swim?
We recommend to carefully lift your system off the pool by gripping the tubes or the strongest part of the reel. 

Please do not lift by the handles!

Remember to cover your pool cover with a UV protective sheet (our item # FG-BPS) while using your pool.  
 ASSEMBLY
Q.     Can one person assemble the system easily?
Assembly can be completed by one person, however it is easier to have 2 people.
Q.     Do you have any assembly videos available on-line?
We have not produced any assembly videos as of yet, please follow the instructions provided carefully and read fully "

before

" assembling.  If you have further questions concerning assembly, please call us at 905 876 4766.
Q.     I would like to install my system vertically on my fence, is this okay?
All of our systems are designed and engineered to either be used on our casters (depending on the model purchased), flat to the ground or installed on a flat surface pool rail/post top.  Warranty claims for our reels/parts installed vertically on a fence/building would be considered a modification and will not be honored. 
Q.     I lost a few of the screws supplied to put my reel system together, what type of screws should I ask the hardware store for?
 The vast majority of our reel systems are put together with 3/4" Stainless Steel self-tapping Tek screws.  *Remember to periodically through the pool season check to ensure your screws are snug.  Any loose screws which may have created an elongated hole can be repositioned to another place on your tube set.  Please be sure to have this new screw position no closer than 1" from your previous hole.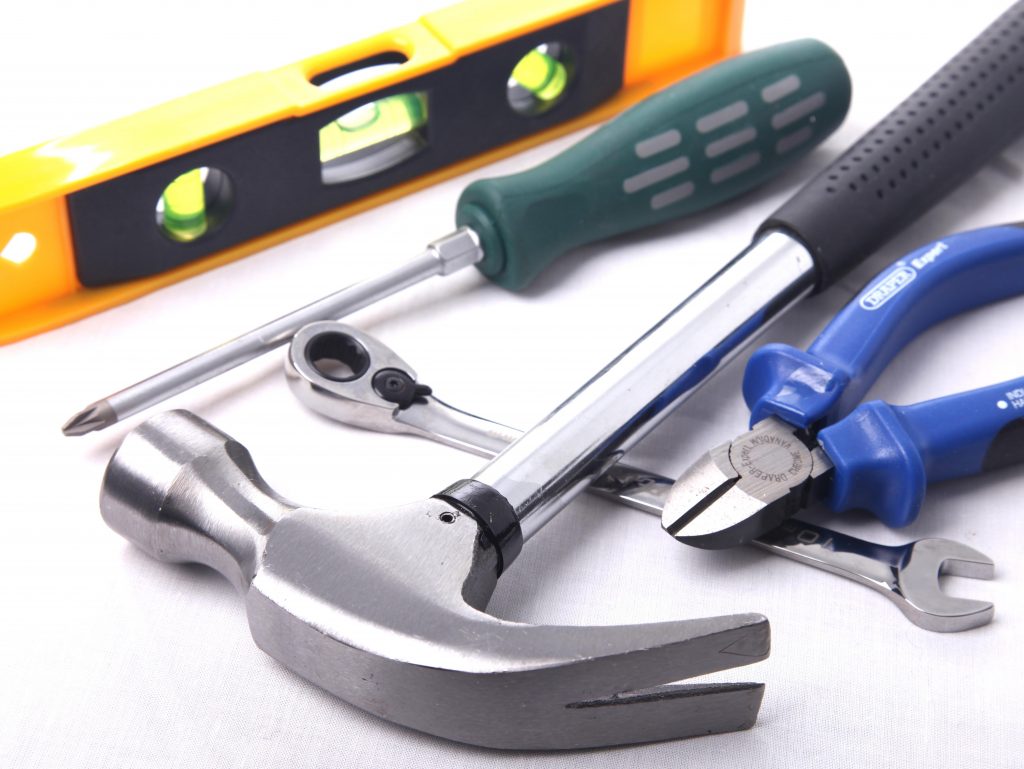 Tools Required
- Safety Glasses
- Tape Measure
- Pencil & Scissors
- Adjustable wrench
- Portable Drill
*1/8" Pilot holes can be used on tube sets.